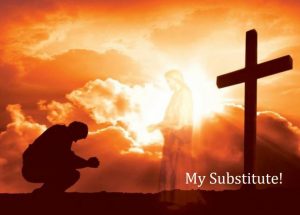 Long ago in Scotland, a man told this story*:
As a young boy I saw something I could never forget—a man tied to a horse cart and dragged through the streets of my village. The poor man's back was torn and bleeding from the whip. It was a shameful punishment. Was it for many crimes? No, it was for just ONE offense. Did any of the town's men offer to take some of the lashes with him? No, the man who committed the offense bore the penalty alone.
While attending university I saw another spectacle—a prisoner sentenced to die. Thousands watched the condemned man as he was led out from the jail, his arms restrained, his face pale. Did anyone ask to die in his place? Did any friend step forward to untie the rope and say, "Put it around my neck, and I will die in his place? No. The criminal underwent the sentence himself. Was it for many offenses? No. It was for just ONE offense.
A prophet in the Bible once confessed to God,
"…our offenses are many in your sight, and our sins testify against us." -Isaiah 59:12
This is sobering. But the same prophet also foretold how Jesus, God's only Son,
"…was pierced for our transgressions, he was crushed for our iniquities; the punishment that brought us peace was on him, and by his wounds we are healed." -Isaiah 53:5
How simple it all becomes when God opens our eyes! God's law demands justice; Jesus completely satisfied God's justice when he died on the cross. Was it for ONE offense? No! It was for MANY! Indeed, Jesus died for ALL of them! The Bible could not be clearer:
"He is the atoning sacrifice for our sins, and not only for ours but also for the sins of the whole world." -1 John 2:2
God pardons law-breakers—the guilty! This was the plan of God, who,
"…so loved the world that he gave his one and only Son, that whoever believes in him shall not perish but have eternal life." John 3:16
These two scenes played over in my mind for many years. Then one night I pictured yet another frightful sight—I saw myself, a lawbreaker, standing before Holy God on the brink of ruin and deserving nothing but judgment. Was it for ONE offense? No. It was for MANY! But I also saw something else—Jesus, God's Son, scourged and dying on the cross. I looked. I cried. And I thanked God for giving Jesus as my Substitute.
The guiltless Jesus bore the penalty our MANY sins deserved—every one of them! He made peace with God for us. He is our substitute. Now, all God asks is that we simply take him at his word—believe.
*Adapted by Paul W. Humphreys from 'The Traveler's Guide – from death to life.' [1890's] Edited by Mrs. Stephen Menzies – 53rd Edition (Pages 86-87)
Interested in a copy of My Substitute? Download your preferred version below: